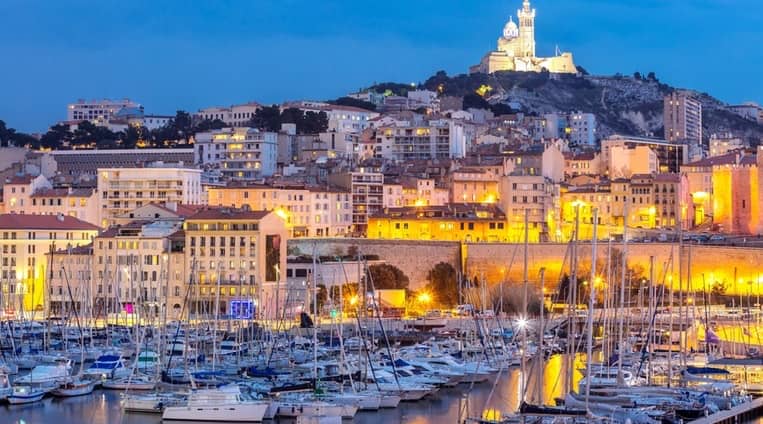 The Provencal city of Marseille has now come into sharper focus for British buyers looking for property for sale in France who, thanks to the new Eurostar service, can get a direct train from London to Marseille.
France's second city is situated on the Mediterranean coast so you can soak up that enviable sun, sea and sand lifestyle along with all of the offerings of a vibrant city.  
Marseille may not be as polished as some of its neighbours along the French Riviera (Cannes, Nice etc) but the city has an edge to it and that's the appeal.  The city has been designated a European City of Culture, something which has rejuvenated the city and enhanced the 'melting-pot' atmosphere that the city embraces.
The heart of city is the bustling Vieux Port. The day starts here with the age-old fish market where the fishermen sell their catch straight off the boats. The port is lined with seafood restaurants, bars and cafes – the atmosphere is lively and the setting is hard to beat.
Other highlights include the area around the Palais de Justice, which has become the foodie centre of the city, the trendy Le Panier district with its independent shops and contemporary architecture and the chic boutiques along Rue du Paradis (which the French do so well!).
Much of Marseille's charm comes from its Mediterranean influence and this is very evident in the cuisine. Olive oil and fresh fish tend to feature heavily and Bouillabaisse is a dish that perhaps sums the region up.  The cities beaches are reputed to be some of the best in Europe and just outside the city is the stunning Calanques national park, where you'll find jagged limestone coves and crystal clear waters.
Marseille-Provence airport is 15 miles from the city, and is served by both Easyjet and Ryanair. The Eurostar now has direct services from London to Marseille for under £100 return.
The prices of property for sale in Marseille are very reasonable and are in stark contrast to the inflated prices of other towns and cities along the French Riviera.  Thanks to the architecture of the traditional Marseille buildings in the old town, many apartments have been beautifully renovated with large living spaces, high ceilings and the all important french doors and windows that create homes with so much light.  If you'd like to take a look at apartments for sale in Marseille, please just click here.